A core focus is producing quality educational content and outreach is a main vehicle of distribution.
CanEvolve educates people about the cannabis plant by interacting with the public, business, organizations and individuals through presentations, media, materials, lectures, consultations and innovative techniques. We conduct, collect and analyize surveys, polls, and studies.
We have decades of experience and knowledge to share.
We are currently running:
Quick Quiz (right side->)
Usage Survey
Please take the time to fill out these quick surveys. Thank you.
Visit our affiliates:
CannabisLink.ca
Canadian Cannabis Coalition
---
OUTSIDE POLLS
---
Due to the low consumption of illegal drugs by the population as a whole, samples must necessarily be large (in Canada over 12,000 respondents). Whatever the sample size, these surveys inevitably underestimate consumption. Respondents tend to under-report, either because individuals simply refuse to respond because of the legal implications, or because some at-risk persons are not included in a telephone survey. Then there is the matter of memory: the more time elapsed between consumption and the survey, the less reliable one's memory of occasions, circumstances, and quantities.
CANNABIS : OUR POSITION FOR A CANADIAN PUBLIC POLICY
REPORT OF THE SENATE SPECIAL COMMITTEE ON ILLEGAL DRUGS
Chapter 6
VOLUME I : PARTS I and II
http://www.parl.gc.ca/Content/SEN/Committee/371/ille/rep/repfinalvol1part2-e.htm#Chapter%206
Canadians evenly split on recreational marijuana, Deloitte survey finds Oct 27, 2016
7 in 10 Canadians support marijuana legalization: Nanos poll
---
Rabble: Tell us your immediate reaction to the marijuana legalization announcement.
---
Angus Reid
4/20 Friendly? Canadian support for pot legalization grows, but most don't view it as a national priority
Key Findings:
More than two-in-three Canadians (68%) say marijuana should be made legal, and roughly the same number (64%) say legalization will do more good than harm in the long run
Legalization does not exactly top the list of national priorities – more than half (54%) of Canadians see it as one of the least important issues facing the country today
Canadians are apprehensive about making the drug too readily available, however. A plurality (41%) say it should be "legalized, but tightly controlled by government"
---
Should marijuana be legalized for recreational use?



Source: https://canada.isidewith.com/poll/292655270
---
20% of Canadians smoked pot last year, but more than 30% would if legal, poll suggests
59% of survey respondents support some sort of legalization
By Pete Evans, CBC News Posted: Nov 10, 2015
Source: http://www.cbc.ca/news/business/marijuana-pot-poll-survey-1.3312151
---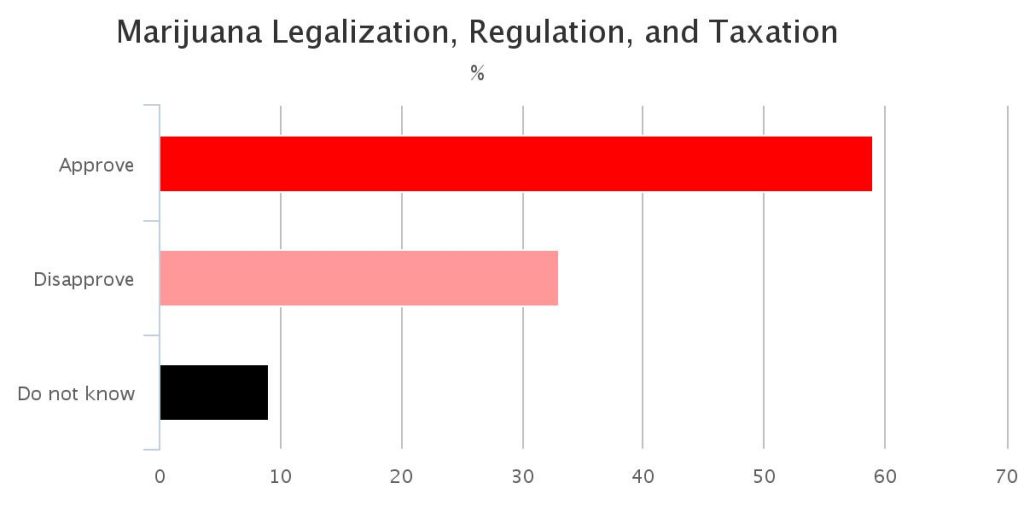 Source: http://poll.forumresearch.com/post/2426/most-want-it-licensed-and-sold-through-government-agencies/