Complementary Medicine Speaker Series
Medical Marijuana
University Of Calgary
March 8, 2001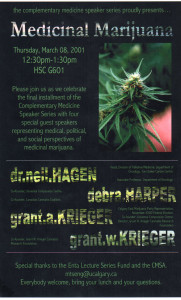 I would like to thank Michael Tseng very much for having the foresight to create this remarkable opportunity for all of us. My name is Debra Harper and it is a pleasure to be here today to participate in this discussion.
Last summer, I organized an Information Night for the Universal Compassion Centre, a non-profit society which provided cannabis to members with medical conditions; because I saw a similar need for those of us involved with medical marijuana to begin to publicly inform the community, medical establishment, and government officials about this herb. Due to many difficulties, the UCC is now dormant, but I'm involved in new ventures to help facilitate cannabis therapy, and believe forums such as this, initiated by other stakeholders, is definitely a sign of the times.
Indeed, we are in a new century, a new age, and the face of traditional Western medicine is slowly changing. The aging boomer population are looking for choices that suit their desire for safer, natural remedies to treat their ailments. Open-mindedness about complementary medicines will benefit the medical profession and patients alike, and it is very encouraging to see you here today to as we discuss this particularly controversial medicine known as cannabis or marijuana.
Continue reading →